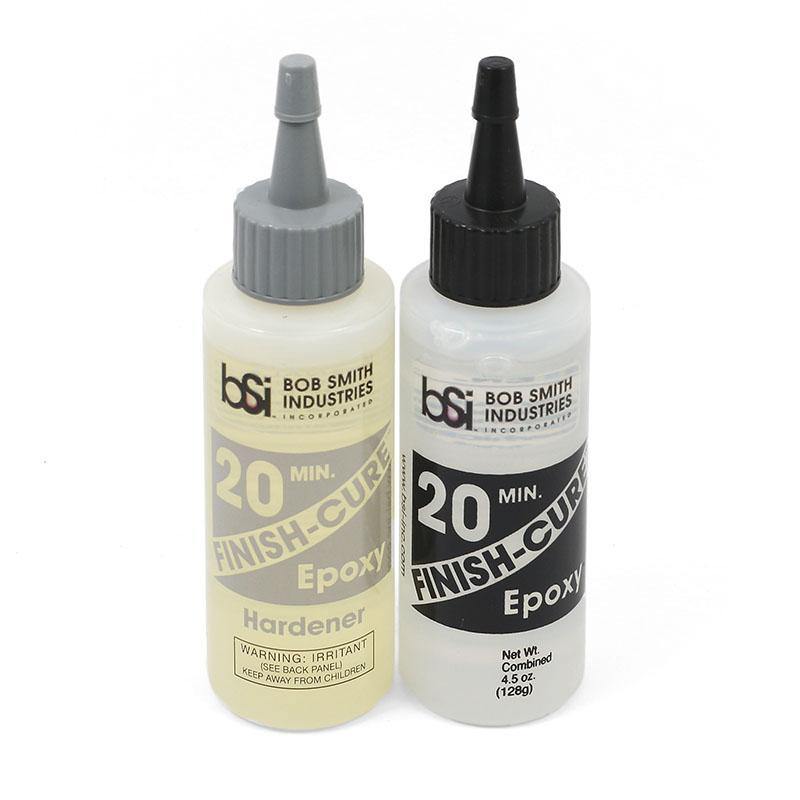 BSI Finish-Cure Epoxy 128g
Finish-Cure is and excellent substitute for polyester finishing resins. It can be used for applying fiberglass cloth to wood or used by itself to give wood a surface ready for primer and paint.
Finish-Cure 20 min. epoxy is an excellent, low odor substitute for polyester resins. It can be used for applying fiberglass cloth to wood or by itself to give wood a surface ready for primer and paint. Finish-Cure can be sanded the easiest of all BSIs epoxies and is excellent for the sheeting of foam core wings. Allow 8 hours for full curing. For best results, Finish-Cure should be heated to a temperature above 30C (85 degrees F) or applying light weight fiberglass, lay cloth on balsa first, then brush on Finish-Cure. When fully saturated, go over the surface with a heat gun, and then squeegee off excess epoxy with a playing card from an old deck or similar. Heat and remove excess several times for a lightweight finish. If room temperature is below 70 degrees F use a heat gun on the surface several times for the next 2 hours. When dry, lightly sand, then fill surface with a low weight spakeling compound, scrapping off excess with a playing card. Sand to a smooth finish ready for primer. For heavy weight fiberglass, apply the epoxy before and after laying down the cloth. Finish-Cure is best mixed in a disposable cup.
Finish-Cure IS NOT A STRUCTURAL EPOXY. Finish-Cure is primarily used for Coating and Finishing. It is also the best choice for applying cloth to the inside of epoxy fiberglass fuselages. It's also commonly used for the sheeting of foam wings.
When an ounce or more is mixed in a cup the working time (pot life) is 20 minutes. When spread into thin layers the working time is approximately 40 minutes.
THE FINISH AREA MUST REMAIN ABOVE 75° FOR 8 HOURS FOR PROPER CURE. If ambient temperature is below 75°, heat Finish-Cure Epoxy and Hardener bottles with tops removed in the microwave for 20 seconds (use less time for partial bottles). After applying, you can occasionally apply a heat gun during the curing time or cover project with a large cardboard box with a lamp placed inside to maintain a higher temperature.
For applying to lighter weight fiberglass, lay the cloth on the surface and brush Finish-Cure through the cloth.  For heavier cloth, apply the epoxy on the surface first, then brush Finish-Cure through the cloth. When using Finish-Cure for the sheeting of foam wings, make sure to apply Finish-Cure to the wood and not the foam. Acetone and isopropyl alcohol work as the best solvents for cleaning uncured epoxy from surfaces
Shipping & Returns and Refunds

Shipping prices starting at:
We ship worldwide from our facilities in Bennäs, Finland. The shipping prices depends on the chosen service, your location and the weight of the package. Here you will see starting prices for each area. All prices are already subsidized by us to the customers advantage.
Zones
Countries
Price starting at
Domestic
Finland
 5,90€
Zone1
Denmark, Estonia, Germany, Latvia, Lithuania,
 7,90€
Zone2
Austria, Belgium, Czechia (Czech Republic), Luxembourg, Netherlands, Poland, Sweden
 9,90€
Zone3
Canada, France, Norway, United States
 12,90€
Zone4
Bulgaria, Croatia, Greece, Hungary, Ireland, Italy, Portugal, Romania, Slovakia, Slovenia, Spain, UK, Vatican City
 13,90€
Zone5
 Cyprus, Georgia, Malta
 19,90€
Zone6
Israel, Lebanon
 22,90€
Zone7

Iceland, Liechtenstein, Monaco, Switzerland, Albania, Bosnia & Herzegovina, Serbia, Ukrain

e
 24,90€
Zone8
Russia
Zone9
Afghanistan, African Angola, Antigua and Barbuda, Argentina, Armenia, Australia, Azerbaijan, Bahamas, Bahrain, Bangladesh, Barbados, Belize, Benin, Bhutan, Bolivia, Botswana, Brazil, Brunei, Burkina Faso, Burundi, Cambodia, Cameroon, Chad, Chile, China, Colombia, Comoros, Congo, Costa Rica, Côte d'Ivoire, Cuba, Djibouti, Dominica, Dominican Republic, Ecuador, Egypt, El Salvador, Equatorial Guinea, Eritrea, Ethiopia, Fiji, Gabon, Gambia, Ghana, Grenada, Guatemala, Guinea, Guinea-Bissau, Guyana, Haiti, Holy See, Honduras, India, Indonesia, Iran, Iraq, Jamaica, Japan, Jordan, Kazakhstan, Kenya, Kiribati, Kuwait, Kyrgyzstan, Laos, Lesotho, Liberia, Libya, Madagascar, Malawi, Malaysia, Maldives, Mali, Marshall Islands, Mauritania, Mauritius, Mexico, Micronesia, Moldova, Mongoli, Montenegro, Morocco, Mozambique, Myanmar, Namibia, Nauru, Nepal, New Zealand, Nicaragua, Niger, Nigeria, North Macedonia, Oman, Pakistan, Palau, Palestine, Panama, Papua New Guinea, Paraguay, Peru, Philippines, Qatar, Republic, Rwanda, Saint Kitts and Nevis, Saint Lucia, Saint Vincent and the Grenadines, Samoa, Saudi Arabia, Senegal, Seychelles, Singapore, Somalia, South Africa, South Korea, Sri Lanka, Sudan, Suriname, Syria, Tajikistan, Tanzania, Thailand, Timor-Leste, Togo, Tonga, Trinidad and Tobago, Tunisia, Turkey, Turkmenistan, Tuvalu, Uganda, United Arab Emirates, Uruguay, Uzbekistan, Vanuatu, Venezuela, Verde, Vietnam, Yemen, Zambia, Zimbabwe
  29,90€
Covid-19 shipping restrictions

Please note that during the Covid-19 pandemic, nationwide lock-downs can affect shipping companies if they can transport to that country or not. These decisions are made on each countrys level, and we cannot know beforehand if this happens. If it does, we will try to find an alternate shipping solution, and if none is found You will of-course get a full refund.
Returns
We have a 30-day return policy, which means you have 30 days after receiving your item to request a return. If you wish to change the item(s) to something else or cancel the order, please contact us at service@bladepoint.eu for assistance.
If the item is defective in any way, please contact us and we will find a solution.
For normal returns, please note that we cannot accept the return shipping costs. If there is something wrong with the item we will naturally discuss the matter and solve the situation.
Damaged items

Sadly damages during transport is all too common and normally shipping companies do not take responsibility in a quick manner, if at all. Please inspect your order upon reception and contact us immediately if there is something wrong. We will strive to find a solution that is workable for both parties.
Handmade and natural items
Many items are handmade and thus the measurements and shapes can vary somewhat from stated. Other items such as wood blocks are natural, and the actual product photo will not be displayed on the site, but rather a selection of our own stock photos of what to expect. We try our best to comply with the average of the specific item. If you have special needs for sizes and patterns for your project, please contact us before ordering.
 Refunds
We will refund the purchase in the same method you made the payment originally. If you want refunds in another form, please contact us beforehand to find out added costs.
In case of product returns we will refund the customer within 5 working days from item received and accepted. If there are any issues with the returned items we will contact the customer and discuss agreeable possibilities.