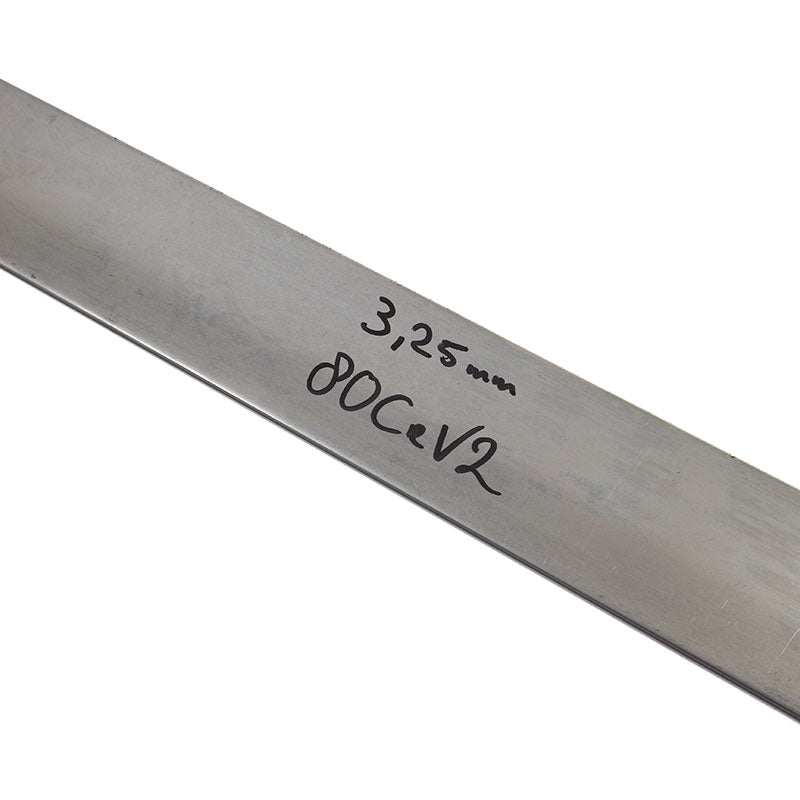 80CrV2 Steel bar 3,2x50x300mm
80CrV2 heat treatment recommendations, unofficial.
Normalizing cycles at 870C, 830C, 800C, 700C. Holding/soaking time 2 minutes.
Hardening at 830C into preheated 60C oil
Tempering, holding time 2 hours.
150C – 63HRC
200C – 60HRC
250C – 57HRC
Chemical analysis, mass percentages
| | | | | | | | | |
| --- | --- | --- | --- | --- | --- | --- | --- | --- |
| C | Si | Mn | P | S | Cr | V | Ni | Mo |
| 0,80% | 0,35% | 0,50% | 0,02% | 0,008% | 0,55% | 0,20% | 0,40% | 0,10% |
80CrV2 tool steel manufactured by Thyssenkrupp in Hohenlimburg Germany.
Thyssenkrupp is a leading steel manufacturer, who also have subdivisions manufacturing everything from military naval vessels to automotive components and elevators. With such a wide variety of products, it was just a matter of time before someone in the knife-world jumped on something.
The find was of course 80CrV2, which is a carbon tool steel, and was originally designed for springs, circular saw blade and various cutting tools. As such, 80CrV2 has excellent shock resistance even compared to much more expensive steels. Edge retention and wear resistance are also good, which makes this a serious contender for knives. The addition of Vanadium in the steel is even sought after because it produces extremely durable carbides at the molecular level. Ultimately, these carbides make up the cutting edge on every knife, and here durability is king.
The toughness of the steel has stood the test of time well. It is by far the most used steel in the Finnish Puukko industry. Predominantly in factory blades, but the steel has gained popularity among custom makers as well. Availability and price are two important factors for the success, but workability is maybe even more important. Here 80CrV2 shines as well as it is often recommended for beginners along with similar steels as 1080 or 1084+.
At the basic level, heat treating 80Crv2 is relatively easy. It will harden and be usable when heated to approx. 830-880C and dipped in oil. Then just temper in the oven for an hour or two at 200C to take down the hardness. This said, much better results will be achieved when applying annealing cycles and hardening at more exact temperatures. This is something everyone has to master with their own tools and machines.
Overall, 80CrV2 is a good balanced carbon steel that is well suited for large and small knives alike.

Shipping & Returns and Refunds

Shipping prices starting at:
We ship worldwide from our facilities in Bennäs, Finland. The shipping prices depends on the chosen service, your location and the weight of the package. Here you will see starting prices for each area. All prices are already subsidized by us to the customers advantage.
Zones
Countries
Price starting at
Domestic
Finland
 5,90€
Zone1
Denmark, Estonia, Germany, Latvia, Lithuania,
 7,90€
Zone2
Austria, Belgium, Czechia (Czech Republic), Luxembourg, Netherlands, Poland, Sweden
 9,90€
Zone3
Canada, France, Norway, United States
 12,90€
Zone4
Bulgaria, Croatia, Greece, Hungary, Ireland, Italy, Portugal, Romania, Slovakia, Slovenia, Spain, UK, Vatican City
 13,90€
Zone5
 Cyprus, Georgia, Malta
 19,90€
Zone6
Israel, Lebanon
 22,90€
Zone7

Iceland, Liechtenstein, Monaco, Switzerland, Albania, Bosnia & Herzegovina, Serbia, Ukrain

e
 24,90€
Zone8
Russia
Zone9
Afghanistan, African Angola, Antigua and Barbuda, Argentina, Armenia, Australia, Azerbaijan, Bahamas, Bahrain, Bangladesh, Barbados, Belize, Benin, Bhutan, Bolivia, Botswana, Brazil, Brunei, Burkina Faso, Burundi, Cambodia, Cameroon, Chad, Chile, China, Colombia, Comoros, Congo, Costa Rica, Côte d'Ivoire, Cuba, Djibouti, Dominica, Dominican Republic, Ecuador, Egypt, El Salvador, Equatorial Guinea, Eritrea, Ethiopia, Fiji, Gabon, Gambia, Ghana, Grenada, Guatemala, Guinea, Guinea-Bissau, Guyana, Haiti, Holy See, Honduras, India, Indonesia, Iran, Iraq, Jamaica, Japan, Jordan, Kazakhstan, Kenya, Kiribati, Kuwait, Kyrgyzstan, Laos, Lesotho, Liberia, Libya, Madagascar, Malawi, Malaysia, Maldives, Mali, Marshall Islands, Mauritania, Mauritius, Mexico, Micronesia, Moldova, Mongoli, Montenegro, Morocco, Mozambique, Myanmar, Namibia, Nauru, Nepal, New Zealand, Nicaragua, Niger, Nigeria, North Macedonia, Oman, Pakistan, Palau, Palestine, Panama, Papua New Guinea, Paraguay, Peru, Philippines, Qatar, Republic, Rwanda, Saint Kitts and Nevis, Saint Lucia, Saint Vincent and the Grenadines, Samoa, Saudi Arabia, Senegal, Seychelles, Singapore, Somalia, South Africa, South Korea, Sri Lanka, Sudan, Suriname, Syria, Tajikistan, Tanzania, Thailand, Timor-Leste, Togo, Tonga, Trinidad and Tobago, Tunisia, Turkey, Turkmenistan, Tuvalu, Uganda, United Arab Emirates, Uruguay, Uzbekistan, Vanuatu, Venezuela, Verde, Vietnam, Yemen, Zambia, Zimbabwe
  29,90€
Covid-19 shipping restrictions

Please note that during the Covid-19 pandemic, nationwide lock-downs can affect shipping companies if they can transport to that country or not. These decisions are made on each countrys level, and we cannot know beforehand if this happens. If it does, we will try to find an alternate shipping solution, and if none is found You will of-course get a full refund.
Returns
We have a 30-day return policy, which means you have 30 days after receiving your item to request a return. If you wish to change the item(s) to something else or cancel the order, please contact us at service@bladepoint.eu for assistance.
If the item is defective in any way, please contact us and we will find a solution.
For normal returns, please note that we cannot accept the return shipping costs. If there is something wrong with the item we will naturally discuss the matter and solve the situation.
Damaged items

Sadly damages during transport is all too common and normally shipping companies do not take responsibility in a quick manner, if at all. Please inspect your order upon reception and contact us immediately if there is something wrong. We will strive to find a solution that is workable for both parties.
Handmade and natural items
Many items are handmade and thus the measurements and shapes can vary somewhat from stated. Other items such as wood blocks are natural, and the actual product photo will not be displayed on the site, but rather a selection of our own stock photos of what to expect. We try our best to comply with the average of the specific item. If you have special needs for sizes and patterns for your project, please contact us before ordering.
 Refunds
We will refund the purchase in the same method you made the payment originally. If you want refunds in another form, please contact us beforehand to find out added costs.
In case of product returns we will refund the customer within 5 working days from item received and accepted. If there are any issues with the returned items we will contact the customer and discuss agreeable possibilities.